Posts for: February, 2018
By Gary Belenski, DDS
February 17, 2018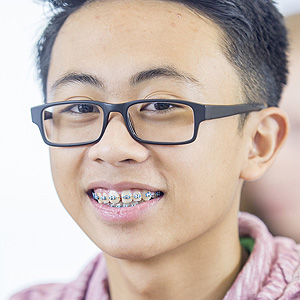 It's a common sight to see someone wearing braces—and not just teens or pre-teens. In the last few decades, people in their adult years (even late in life) are transforming their smiles through orthodontics.
If you're an adult considering treatment to straighten your teeth, this particular dental specialty might be an unfamiliar world to you. Here are 3 things you may not know about orthodontics.
Orthodontic treatment cooperates with nature. There would be no orthodontics if teeth couldn't move naturally. Teeth are actually held in place by an elastic tissue called the periodontal ligament that lies between the teeth and bone. Small fibers from the ligament tightly attach to the teeth on one side and to the bone on the other. Although it feels like the teeth are rigidly in place, the ligament allows for micro-movements in response to changes in the mouth. One such change is the force applied by orthodontic appliances like braces, which causes the bone to remodel in the direction of the desired position.
Treatment achieves more than an attractive smile. While turning your misaligned teeth into a beautiful, confident smile is an obvious benefit, it isn't the only one. Teeth in proper positions function better during chewing and eating, which can impact digestion and other aspects of health. Misaligned teeth are also more difficult to keep clean of bacterial plaque, so straightening them could help reduce your risk of tooth decay or periodontal (gum) disease.
Possible complications can be overcome. Some problems can develop while wearing braces. Too much applied force could lead to the roots dissolving (root resorption), which could make a tooth shorter and endanger its viability. Braces can also contribute to a loss of calcium in small areas of tooth enamel, which can make the teeth more vulnerable to oral acid attack. However, both these scenarios can be anticipated: the orthodontist will watch for and monitor signs of root resorption and adjust the tension on the braces accordingly; and diligent oral hygiene plus regular dental cleanings will help prevent damage to the tooth enamel.
If you're dreaming of a straighter and healthier smile, see us for a full examination. We'll then be able to discuss with you your options for transforming your smile and your life.
If you would like more information on orthodontic treatment, please contact us or schedule an appointment for a consultation. You can also learn more about this topic by reading the Dear Doctor article "Moving Teeth with Orthodontics."
By Gary Belenski, DDS
February 02, 2018
February marks National Children's Dental Health Month. It's important for children to form daily oral hygiene habits early, but how do you get little ones to take care of their teeth? Try these tips:
Describe your actions. When children are too young to brush on their own, gently brush their teeth for them, narrating as you go so they learn what toothbrushing entails. For example, "Brush, brush, brush, but not too hard," or "Smile big. Let's get the front teeth. Now let's get the teeth in the very back."
Make learning fun. Around age 3, children can start learning to brush their own teeth. To model proper technique, play follow the leader as you and your child brush teeth side by side, making sure to get all tooth surfaces. Then you both can swish and spit. After brushing together, brush your child's teeth again to make sure hard-to-reach surfaces are clean. Note that children generally need help brushing until at least age 6.
Encourage ownership and pride. Children feel more invested in their oral health when they get to pick out their own supplies, such as a toothbrush with their favorite character and toothpaste in a kid-friendly flavor. To boost pride in a job well done, reward your child with a sticker or star after they brush their teeth.
Keep your child brushing for two minutes. According to the American Dental Association, toothbrushing should be a two-minute task. To pass the time, play a favorite song or download a tooth-brushing app designed to keep kids brushing the recommended two minutes. For increased motivation, electric toothbrushes for children often have a built-in two-minute timer as well as appealing characters, lights and sounds.
And don't forget one more key to a lifetime of good oral health—regular dental visits. If you have questions about your child's dental hygiene or if it's time to schedule a dental visit, please contact our office. To learn more, read the Dear Doctor magazine articles "Dentistry & Oral Health for Children" and "Top 10 Oral Health Tips for Children."