Posts for tag: dental implant
By Gary Belenski, DDS
October 03, 2019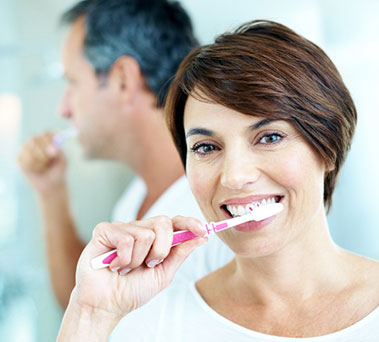 You feel great about your new smile, thanks to dental implants! And you may also be feeling relief as the problems with your former teeth fade into the past.
But that doesn't mean you can drop your guard on periodontal (gum) disease. Even though implants are impervious to decay, the natural tissues supporting them are vulnerable to periodontal (gum) disease. If they become diseased, your implants could lose their bone support and eventually fail.
And that failure could happen quickly. That's because, as life-like as they are, implants don't have one important advantage of real teeth: an attachment to a connective tissue called the periodontal ligament. This tough but elastic ligament lies between the teeth and the bone, attaching to both with tiny extending fibers and holding the teeth in place.
And that's not all: Because the periodontal ligament contains an abundance of blood vessels, it can supply antibodies to help fight infection. The body's defenses may not be able to stop disease, but they can certainly inhibit its progress.
Implants can't benefit from this infection-fighting mechanism. So, when an infection arises in the gums surrounding an implant, it can spread rapidly through a form of gum disease known as peri-implantitis (literally "inflammation around an implant"). If we don't stop it with prompt treatment, you could lose bone support from your implant and eventually lose it, sometimes in quick fashion.
That's why you should clean your implants everyday like you do the rest of your teeth with brushing and flossing. You should also visit us regularly for dental cleanings. A dental cleaning involving implants is similar to one with natural teeth, except the hygienist won't use metal instruments on the implants—this could create tiny scratches on their surface. Instead, they'll use nylon or plastic instruments or ultrasonic equipment to clean them.
You should also make a dental appointment as soon as you notice swollen, reddened or bleeding gums. If you have gum disease, we can stop the infection through treatment and restore your gums to health. This can be a long and involved process, but it's necessary to preserve your implants.
It's true that implants can change your life. If you want to enjoy that change for a long time, take care of your implants and the natural tissues that support them.
If you would like more information on caring for dental implants, please contact us or schedule an appointment for a consultation. You can also learn more about this topic by reading the Dear Doctor magazine article "Dental Implant Maintenance."
By Gary Belenski, DDS
June 05, 2019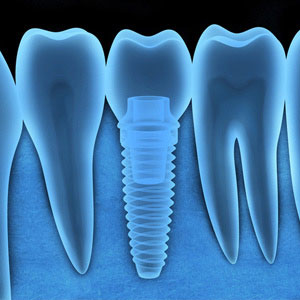 If you know anyone with a dental implant, you may know it can be a long process in getting one. Several weeks or months can pass between removing the old tooth and placing the implant, and then several more weeks before affixing the permanent crown.
But with recent advances in implant technology, some patients don't have to wait as long for a new implant and crown. In fact, one procedure commonly known as "tooth in one day," allows patients to walk in with a problem tooth and out the same day with a new "one."
Not every implant patient, however, can undergo this accelerated procedure. If you're considering implants, the state of your bone health will determine whether or not you can.
Implants need a certain amount of available bone for proper placement. But bone loss, a common consequence of missing teeth or dental disease, can reduce bone volume to less than what's needed to place an implant. The patient may first need to undergo grafting to regenerate the bone or choose another restorative option.
If your supporting bone is sound, your dentist might then proceed with the implant. But you will still have to wait a while for your new crown. The implant needs to integrate with the bone to improve its hold. This integration process can take anywhere from a minimum of six weeks to more commonly twelve weeks. After the attachment is mature, the dentist may need to undo the gum covering before taking impressions for the formation of the new crown.
But it is possible to have a tooth or teeth in a day. For a single tooth, your dentist may be able to immediately attach a crown right after implant surgery if the implant is very stable. Even so, this crown will need to be temporary, slightly shorter than a permanent crown so that it won't make contact with other teeth and put too much pressure on the new implant. After further healing from bone integration, impressions will be taken so that you'll receive your permanent crown shortly.
Immediate crown placement can allow you to have the cosmetic and limited functional benefit of a new tooth right from the start. If multiple implants are placed in one arch in a day, it's possible to have immediate teeth if enough implants are attached together with a temporary restoration.
This is different from a single implant replacing a single tooth and does create confusion for patients when they read about teeth in a day. Regardless, no final tooth crown can be placed at the time of an implant—only a temporary restoration.
If you would like more information on your options for dental implants, please contact us or schedule an appointment for a consultation. You can also learn more about this topic by reading the Dear Doctor magazine article "Same-Day Tooth Replacement with Dental Implants."